English translation below : (thanks to Scott Schaffer)
Karl Klugmatzelsdorf's last letter home.
Missing in Action ?
Killed in Action ?
Died in captivity ?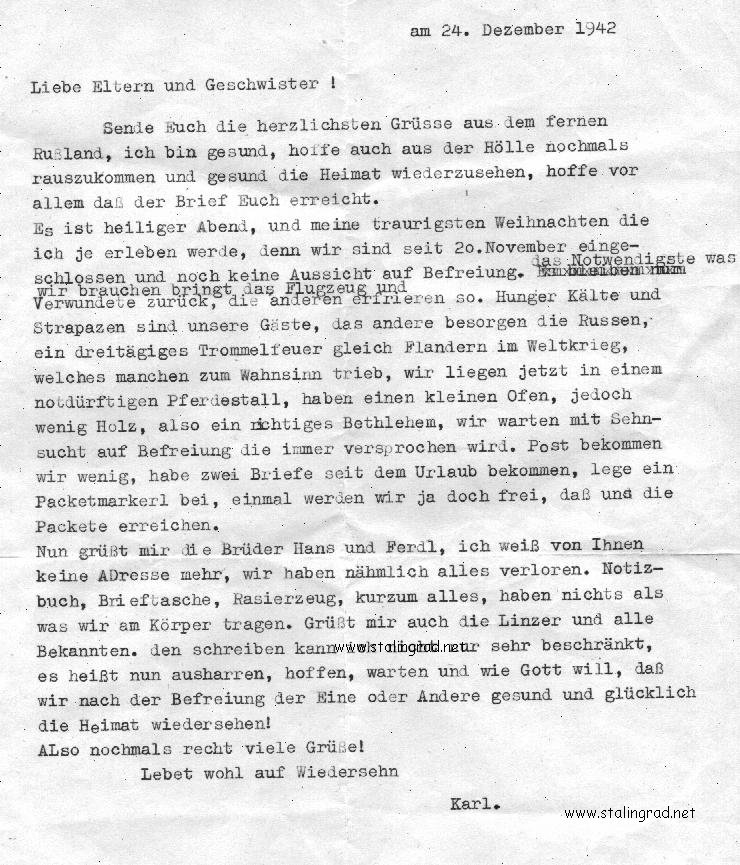 Dear parents and brothers and sisters !
Sending you the finest greetings from Russia, feeling well, hoping to get
out of this hell and to come back home, hoping that this letter reaches
you.
It´s Christmas, my saddest Christmas ever, cause we´re encircled since 20.
November and we´re waiting for the promised rescue. The airplane brings the
most essential and gets back the wounded, the others freeze to death.
Hunger, cold and strain are our guests, the other is done by the Russians,
a barrage for three days like in Flandern during the world war, which lead
sometimes to madness, we´re now in a provisional horsestable, with a small oven,
but without wood, like in Bethlehem, we´re waiting for rescue like promised.
We´re getting only a few letters from outside, I´ve got two since my
holiday, i´ll put a packagemark to the letter, because I´m sure that we
will be rescued, and then I´ll get the package. Greetings for my brothers
Hans and Ferdl, I don´t know their adress, because I´ve lost everything.
Notebook, wallet, shaving things, simply everything, we have nothing,
but that we´re wearing. Also greetings for all from Linz and all relatives,
cause i can´t write them all, now it´s time to hold out, hope and wait to
see (if god wants to),the others and my home again after the rescue.
Again my finest greetings!
Have a good time and hope to see you later
Karl